Designing Your Dream.
Creating Our Vision.
Find inspiration, create your own deck design, view tutorials, calculate materials, see costs and much more.
More than 1,000 articles
to help you build the perfect deck
GET BETTER RESULTS BY REGISTERING TODAY!​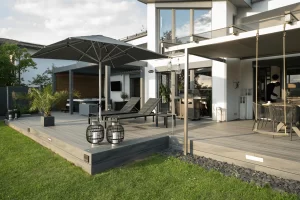 With the right lighting, you can transform your patio from a daytime sunbathing sanctuary to a nighttime oasis. Depending on your choices, lighting can create a fun party vibe or a relaxing ambience. With so many options available, it can be hard to narrow down your choices for matching your patio lighting to the mood.
If you have a high water table or it has just rained, you may find that your footing holes have flooded with water. This is not
In the past, many decks were built with 4×4 support posts (also called structural posts). But these can bow seriously, even if a deck is
The footings of your deck are exactly what they sound like – the feet of the deck. They're the concrete foundations that support your deck.
You need to walk across your pool deck before you get in the water and more importantly you walk across it after getting out of
thinking outside
the box is our motto
Subscribe to our newsletter
Get more helpful resources delivered right to your inbox.